VR HMD Pro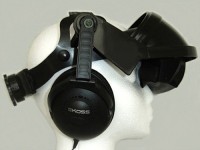 A Virtual Realities Exclusive!
The VR HMD Pro is compatible with a wide range of computer and video input formats, providing the user with an high quality image (800x600 SVGA) at an affordable price.
The VR HMD Pro has an injection moulded body that is built to withstand the most demanding applications, the user friendly 'twist adjustment' headband makes it easy to adjust to all head sizes. The VR HMD Pro combines a full sense of immersion even for people who wear eye glasses, so no more tedious adjustments, just put it on your head and your ready to go.
Lightweight and compact, the Video/PC-friendly multi-user VR HMD Pro delivers immersive large screen visualization for a wide range of VR and simulation applications.
The VR HMD Pro comes in either a Video or PC version. The VR HMD Pro Video will connect to any Composite or S-Video source. The VR HMD Pro PC will connect to any PC with a VGA connector.
Add a Head Tracker to track your head movement up, down and side to side like you are really there!
Specifications:
Resolution: 800x600
Virtual Image Size: 85" at 5'
Field of View: 35 degrees
Input Signal: NTSC/PAL Video or SVGA (800x600)
Control Functions: Brightness, Contrast and Volume
Audio: High fidelity closed cup Koss stereo Headphones
Head band: Ratchet head band offers a comfortable and secure fit
Head Tracker: Accommodates all tracker sensors
IPD Adjustments: None Required
Eye Relief: 25MM
Power Consumption: 9V
Adaptor Included: 110-130V AC or 220-240V
Manufactured, Trademarked and Warranted by Virtual Realities, Inc.
The VR HMD Pro is available only through Virtual Realities, Inc. and will not be sold or warranted through any other site.

Updating...