Impulse Stick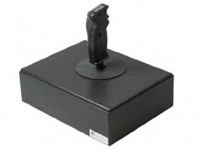 The Impulse Stick is a robust joystick designed for rugged applications including location based entertainment and industrial control. In this device a local microprocessor loads and plays haptic effects. This microprocessor closes the haptic control loop, relieving your host computer of this burden. You can update forces that are being played by the microprocessor approximately 100 times per second. Impulse Stick is Windows DirectX and Immersion I-Force 2.0 compatible. Communication is via a USB 1.1 interface. The Software Development Kit (Windows-only, optional) can be used as a rich, real-time graphical development and test tool for the device.
Contruction Features:
Heavy duty steel chassis: 12"w x 9.5"d x 4" h
Belt transmission: 4:1
Range of motion: 40 degrees
Positional resolution: .01 degrees
Molded plastic handle with trigger and thumb buttons:
Handle length: 5.5"
Attaches 1" up from top of chassis
Total length 6.5" from top of chassis
Power: 24VDC, 6.5A
Forces:
Max force: 14.5N (3.5 lbf)
Continuous force: 8.5N (1.9lbf)
Torque sensitivity: 14.8 oz-in/A
Host Compatibility:
Communications: USB 1.1
Protocol: Windows DirectX, Immersion I-Force 2.0
Operating System: Windows XP, Windows 2000
Position Effects:
Spring
Slope
Damper
Friction
Inertia
Axis and angle walls
Time Based Effects:
Vector (constant) force
Periodic
Pulse
Included Items:
High power joystick
Driver for Windows XP and 2000
110VAC/220VAC input, 24VDC output power supply
Country specific power cable 

Updating...