SoftMouse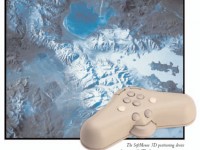 The SoftMouse positioning device offers unparalleled ease of integration and comfortable two-handed operation for 3D photogrammetry systems used for mapping, GIS surveys, strategic military planning, and other applications.
Easy to Use, Easy to Integrate
Using the accompanying Interface Box and the included software developer's kit, you can easily incorporate the inputs from SoftMouse optical encoders, function keys, and trigger buttons into your application. The SoftMouse device is fully and easily customizable for taking complete advantage of end-user software features.
SoftMouse features
Three groups of controls: optical encoders, function keys, and trigger buttons
Optical encoders allow the user to control the x, y, and z position of a cursor
Trigger buttons allow the user to trigger data collection or similar quick events
Function keys are used to set parameters, change modes, or perform miscellaneous functions
Designed for High-use Environments
The relatively small size of the two-handed SoftMouse device is preferred by users who perform thousands of operations a day. Its large button size and simple ergonomic design reduces hand fatigue and errors.
With the SoftMouse positioning device, developers can easily create streamlined operations that support inputting data in highly intensive shift-work environments.
Efficient Data Input
SoftMouse controls include four trigger buttons that provide fast-action data collection or other operation. Four function keys work with two shift inputs to provide a total of 16 possible values to assist the data collection process. In addition, the mouse may be purchased as configured to accept additional channels of quadrature from hand cranks, pedals, and other devices. 

Updating...