Wii-PC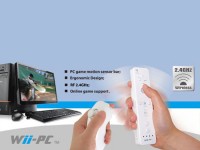 Based on advanced 3D movement modeling technology, Virtual Realities has developed the Wii-PC. Wii-PC is similar to the Nintendo Wii Controller but made for the PC platform. Wii-PC enables PC gamers and developers to add wireless motion to their favorite PC applications.
Specifications:
2.4G RF,10 meters range
Ergonomic Design
Thousands of games supported
Supports both keyboard and mouse emulation
Keyboard & mouse program saving and loading function
Vibration Feature
2 AA batteries (not included). Low Battery Indicator
Supports DirectX 9.0 or up
Compatible with WIN2000/XP/VISTA/7/8
USB, plug and play. Compatible with USB1.0/1.1/2.0

Updating...