Mirage

The Mirage Augmented Reality System is a complete solution allowing you to create your own AR experience by inserting virtual content to the real environment. Mirage runs on a PC computer and includes a stereo video see-through OLED HMD and the required AR software. The software tools will allow you to import 3D content from the most popular 3D animation software, to insert, manipulate and configure the virtual environment that must be presented to the AR user.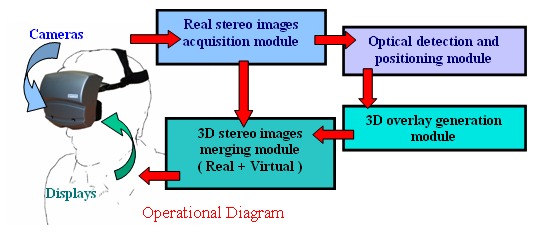 Mirage uses a high performance positioning system based on machine vision which allows the user to move around the augmented real object or inside the environment to be augmented. The Mirage AR system presents many advantages :
Machine vision based approach which is less intrusive in the visual environment and more flexible than other vision based methods.
Allows the user to create as many different augmented environments as needed into an AR scenario, without limitations.
Six degrees of freedom ( 6DOF) virtual object positioning with 3D error lower than 1mm at a 2 meters distance.
No cyber sickness effects.
3D stereoscopic clear OLED display.
Real time operation at 30 Frames Per Second.
High performance rendering engine supporting 3D animations, shadows, lighting configuration and other environmental conditions.
User interface tools allows creating, configuring and manipulating the different AR scenarios as well as exploring them from the user point of view.
Lightweight, compact and stylish Head Mounted Display (HMD).
Specifications:
Stereoscopic 800 x 600 SVGA OLED Display (VGA field sequential input)
640 x 480 Machine Vision Grade Cameras
41 degree diagonal field of view
Software vision based positioning system
AR registration error less than 1mm at 1m distance (0,1%)
Real-time (30 fps) positioning and display
Camera convergence and focus adjustable from 1 meter to infinity – depending on user's needs
Lightweight : 375g only
Adjustable Interpupillary Distance

Updating...