nVisor ST60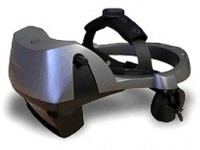 The new nVisor ST60 is a high-resolution see-through head-mounted display designed for augmented reality applications requiring a wide field-of-view format with superior SXGA image quality. High efficiency optics incorporating reflective-transmissive polarizers increase light-throughput, presenting a high-contrast virtual image while allowing 50% light transmission from the environment.
Specifications:
Monocular FOV (diagonal): 60°
Overlap: 100%
Brightness: 50 fL max (adjustable)
Arc Minute / Pixel: < 2.2
See-thru transmission: 40%
Technology: LCOS Reflective CRL Opto
Video Formats: 1280x1024 60 Hz (analog or DVI)
Color: 24 Bit
Stereo: Dual channel support
IPD Adjustment :55-73 mm
Eye Relief :26 mm
Weight: ~ 1.3 kg
Power Input: AC 100V - 240V
Display Control: Brightness

Updating...