5DT Data Glove 14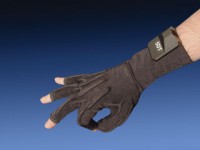 The 5DT Data Glove 14 Ultra has been designed to satisfy the stringent requirements of modern Motion Capture and Animation Professionals. It offers comfort, ease of use, a small form factor and multiple application drivers. The high data quality, low cross-correlation and high data rate make it ideal for realistic real-time animation. The 5DT Data Glove 14 Ultra measures finger flexure (2 sensors per finger) as well as the abduction between fingers. The system interfaces with the computer via a cable to the USB Port (Platform Independent). It features an auto-calibration function, 8-bit flexure and abduction resolution, extreme comfort, low drift and an open architecture. The optional Wireless Kit interfaces with the computer via Bluetooth technology (up to 20m distance) for high speed connectivity for up to 8 hours on a single battery. Right- and left-handed models are available. One size fits many (stretch lycra).
Specifications:
Bend Sensing Method: Fully enclosed fiber optic bend sensors
Number of Sensors: (two per finger) as well as abduction between fingers
Resolution: 8-bits (256 positions/finger)
Output Interface: USB 1.1, Minimum 75hz sampling rate, 200hz per finger Tracking, Integrated pitch and roll sensor
Glove fitting: RH & LH versions; "One size fits many"
Calibration Routine: Open & close hand; each user
Software Bundled: Windows 32 bit DLL w/installation routines, Mouse emulation, Raw Data Viewer, polygonal graphic hand model, Joystick Emulation, Sample 16 & 32 bit DOS program C++ source code
Power Supply: Via USB Interface

Updating...