Virtuose 6D Desktop

The Virtuose 6D Desktop is a haptic device specifically designed for bidirectional interactivity with virtual 3D application. It provides 6 degrees-of-freedom (DOF) with force-feedback. Its workspace and its small overall dimensions intend it for a use on individual workstations, equipped with a standard monitor.
The Virtuose 6D Desktop is composed of three articulated branches, attached in serial to the grasping tool, which give a 6 degrees-of-freedom kinematics, with force-feedback available in all degrees-of-freedom. The structure of the Virtuose 6D Desktop makes it possible to work in a volume of 521 x 370 x 400 mm. The resolution in position is of 0.01 mm.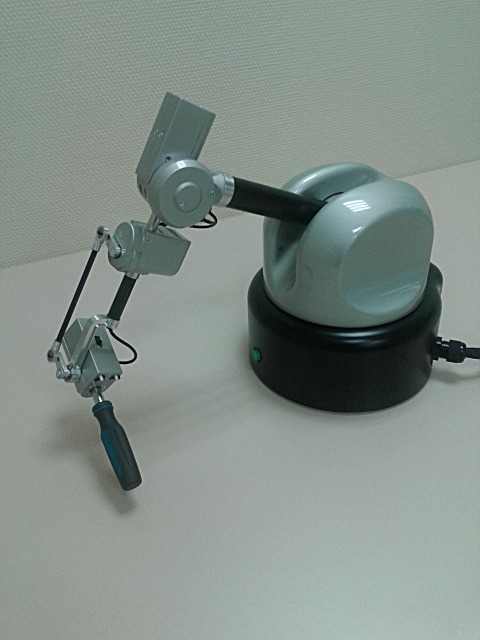 Technical Characteristics:
6 degrees of freedom position feedback
6 degrees of freedom active force-feedback
Operational workspace corresponding to the movements of the lower arm pivoting around the elbow: 521 x 370 x 400 mm and 270° x 120° x 250°
Continuous translation force of 3 N (Maximum 10N)
Continuous rotation torque of 0.2 Nm (Maximum 0.8 Nm)
Passive weight balancing with springs
Lightweight, no specific equipment needed for transport
Support of both impedance (force) and admittance (position) control
Development kit (API) available for Microsoft Windows and Linux (32 and 64 bits)
Communication through Ethernet/UDP
Tool fixation through a standard M8 connector for easy customization
Specifications:
Number of motors: 6
Type of motors: DC
Output power of the motors: 60W in 48V
Power supply: 100-240 VAC one-phase
Power consumption: Less than 200W
Translation force: Peak, Continuous 3 N, 10 N
Rotation force: Peak, Continuous 0.2 Nm, 0.8 Nm
Maximum control stiffness (translation): 1000 N/m
Maximum control stiffness (rotation): 4Nm/rad
Apparent Inertia: 350g
Weight of the haptic arm: 3.6 kg
Weight of the power supply: 2.1 kg

Updating...