VR Motion Chair

Ever dreamed of owning your own arcade center? Then order your VR Motion Chair today! The first arcade motion simulator for personal use! This nicely priced system for the PC, offers you the same fun as more expensive simulators that you can find at your local arcade center! Action flying and driving games will never be the same as you twist and turn through the game with unbelievable realism. Take a seat in a VR Motion Chair and fly into the future of home video gaming, the feeling is OUT OF THIS WORLD !!!
The VR Motion Chair is light weight and build for years of joy! The VR Motion Chair is compatible with almost every computer system and all your favorite games. Hook it up in the same way as you would do with your joystick (plug and play) and experience immediately a brand new gaming dimension! The VR Motion Chair can be used with a joystick as well as with a steering wheel and will work with any PC game!
Combine the VR Motion Chair with one of our 3D Head Mounted Displays and prepare for full-motion fun! Now put on your favorite game i.e. a flight simulator or a racing game…
Don't wait any longer, order your VR Motion Chair today and prepare for the ultimate gaming experience!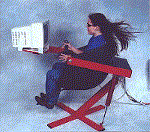 Updating...