Eye-View XT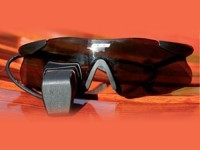 Portable, Light Weight, Monocular Video Viewing!
Designed with the mobile user in mind, this sun glass style display is lightweight, low profile, and high resolution. Its high-contrast SVGA (800x600) display is perfect for displaying images from any video source.
The Eye-View XT includes the following accessories: Optical cloth, 1 clear lens, 1 tinted lens, battery/charger and carrying case.
Specifications:
DISPLAY
SVGA color LCD display (800 x 600)
35° field of view
WEIGHT
Display: 2.0 oz.
INPUT FORMAT
VGA, S-Video, Composite, PAL and NTSC
BATTERIES
1 Rechargeable Li ion battery
4-5 hours of continuous use
POWER
A/C adapter or Battery
Power voltage 5 to 18 volts DC

Updating...