Eyetop Centra

Can't live without your video fix even when you're walking down the street? Need a private screen to watch your content in total intimacy? Want to enjoy your favorite TV show or video game on the go?
Discover Eyetop Centra now!
Eyetop Centra is the first wearable video screen with stereo sound, making it possible to enjoy multimedia content wherever you are. Just plug it into your mobile video device, put your glasses on, store your video device for hands-free operation, and benefit from having a TV set right in front of your eyes!
Best of all, Eyetop Centra lets you stay in touch with your surroundings. You can watch the video action on the built-in screen while you monitor the live action through your fashion Eyetop sunglasses. Feel free to move!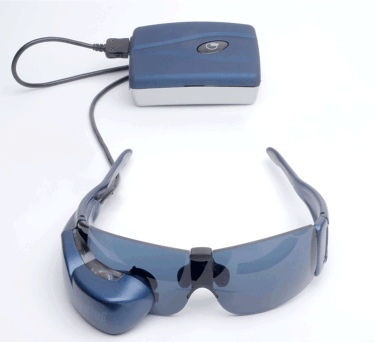 Specifications:
Display format: Monocular
Display type: AMLCD
Video signal: NTSC/PAL
Video display devices: AMLCD panel (76 800 pixels)
Resolution: QVGA 320x240
Color bit depth: 24-bit color
Aspect ratio: 4:3
Diagonal field of view: 16°
Vertical field of view: 9.60°
Horizontal field of view: 12.80°
Focus image location: 2m to infinity
Video refresh rate: 50 hz (PAL) and 60 hz (NTSC)
Contrast: 100:1
Interface connectors: 1 RCA (video composite input) + 2 audio RCA (stereo sound). Connector to link the eyeglass to connection box for power supply and video signal.
Video settings: Brightness/contrast/saturation/hue
Power supply: 4 AA Alkaline batteries (1.5V)
Display unit weight: 2.11 oz (60g)
In a highly media oriented world, Eyetop Centra allows multimedia content to be comfortably watched on the equivalent of a 14-inch screen. Say goodbye to painful movie watching on the small embedded screen of your video device — now you have a mobile private viewing room!
Just plug Eyetop Centra into your favorite mobile entertainment system and that's it! You've now got the ultimate portable DVD player accessory to use in a plane or car (Centra + portable DVD player), a multimedia juke box that you can keep stored in your pocket while watching (Centra + Multimedia Jukebox), or the perfect remote viewfinder for shooting odd angles (Centra + digital camera and camcorders).
Eyetop Centra is amazingly easy to connect! Thanks to its standard RCA input and automatic NTSC/PAL international signal recognition, Eyetop Centra can extend the usefulness of most of your video and/or computer appliances!
Wear your screen as a pair of glasses, stow your video device, and enjoy your video portable system, hands-free.
Eyetop Centra meets high-quality technological demands, while being as light and small to carry as your pair of sunglasses! Eyetop Centra is composed of an eye wear linked with a cable to a belt worn control unit.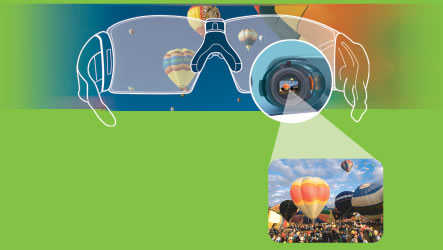 Updating...