nVisor SX111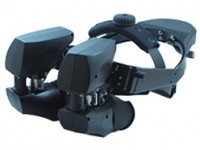 The nVisor SX111 offers users a truly immersive display with a total viewing real estate covering 102° horizontal by 64° vertical, with 111 degrees across diagonal. The nVisor SX111 uses a single PC source supporting dual DVI or analog video output. Adequate eye relief accommodate users with eyeglasses and a large exit pupil supports eye movement across the expansive field-of-view without vignetting.
Specifications:
Monocular FOV (diagonal): 90°
Monocular H FOV: 76°
Vertical FOV: 64°
Overlap: 50 degree (66%)
Brightness: 5 fL
Contrast: 100:1
Arc Minute / Pixel: < 2.2
Technology: LCOS
Video Formats: 1280x1024 60 Hz (analog or DVI)
Color: 24 Bit
Stereo: Dual channel support
IPD Adjustment :55-73 mm
Eye Relief :25 mm
Weight: ~ 1.3 kg
Electronic
Power Input: AC 100V - 240V

Updating...