nVisor SX60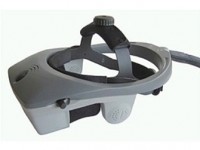 The nVisor SX60 is a state-of-the-art new head-mounted display (HMD) for advanced virtual reality applications. The nVisor SX60 incorporates high-resolution color micro displays with custom engineered optics to deliver unsurpassed visual acuity in a wide field-of-view format.
Features:
The nVisor SX60 boasts and attractive ergonomic design with easy access to user adjustments including inter-ocular distance, eye-relief to accommodate users with eyeglasses, and a robust head-fitting apparatus to balance and comfortably align the HMD.
Compatible with virtually any PC workstation, the nVisor SX60 accepts VESA standard SXGA video in either DVI or Analog formats. The video control electronics support both stereoscopic and monoscopic viewing when detecting dual or single inputs, respectively.
Specifications:
Resolution: 1280x1024 Pixels
Field of View: 60 diagonal
Focus: 2 m or infinity
Overlap: 100%
Brightness: ~25 fl Max (Adjustable)
Contrast: >200:1
Color Depth: 24 bit
IPD Adjustment: 55-73mm
Weight: ~1 kg
Tracker: Most trackers supported
Input: AC100-240V
Consumption: 25 W Max
Video: 60Hz SXGA DVI or Analog

Updating...