ProView XL50+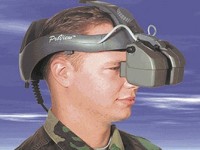 The  ProView XL50+ is a lightweight head mounted display system featuring full-color XGA resolution. Proprietary wide field-of-view technology allows very compact direct view optics to be mounted to a comfortable, fully adjustable headband.
The ProView XL50+ accepts standard VESA XGA video from any PC or workstation, and includes an InertiaCube 4 head tracker.
The ProView XL50+ is an advanced display system that is well suited for training, simulation, medical and virtual reality applications, and is available directly from Virtual Realities.
Specifications:
Resolution: Full color, solid state, XGA resolution (1024H x 768V)
Brightness: ~25 fl Max (Adjustable)
Contrast: >200:1
Optics: IROC
Field of View: 50° diagonal, 30° (V) x 40° (H)
Transmission: Non see-through
Overlap: 100%
Color Depth: 24 bit
Eye Relief: Eyeglasses compatible
Input: Dual Input - 1024x768 60Hz
IPD Adjustment: 55-75mm
Head band: Dual ratchet head band offers comfortable and secure fit
Audio: 3-wire stereo (pass through)
Tracker: Most trackers supported
Video Format: (1 or 2) XGA 1024 x 768, non-interlaced
Sync Formats: Sync on video, Composite sync or Separate H/V sync (auto-detects)
Vertical Rate: 60 Hz
Cable Length: 20 feet
Video Outputs: L/R XGA video outputs for repeater monitor(s)
Controls: Audio adjust
Indicators (LED): Valid video input
Connectors: (2) XGA, 15 pin DA, female, (video in) (2) XGA, 15 pin DA, female, (video out for monitor) BNC barrel connectors, RGB H&V, (video in) 2 sets Power: 120 VAC, 60 Hz, or 240 VAC, 50 Hz, 25W

Updating...