Tac-Eye ST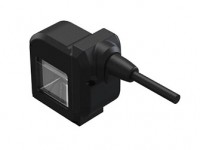 The Tac-Eye ST (SEE-THROUGH) is a see through display technology that enables augmented reality. This patented optical see through system allows the user to simultaneously view the real world and relevant computer generated information such as graphics, maps, and alerts without ever having to compromise situational awareness. 
This technology can be used in a variety of applications such as industrial, medical, commercial, and defense to provide users with a cost effective solution. It is also beneficial by promoting safety and efficiency. Using hands-free technology coupled with this see through display has endless possibilities for real-time applications.
Features:
Designed to meet MIL-STD 810F: Shock, Vibration, Water, Dust, Drop, Temp
Display: SVGA (800x600) Color AMOLED
Transmissivity: 45%
31° Horizontal Field of View
Capable of displaying  SVGA, NTSC, RS-170, and PAL formats
Controls: Power, display brightness, and display orientation are controlled by the inline control pad
Mounts to standard ballistic sunglasses from Revision, ESS, and Oakley
The Tac-Eye ST 
Video/VGA Configuration:
Choice of eyewear (Oakley SI Ballistic M-Frame 2.0,
Revision Sawfly, or ESS ICE)
Rugged USB battery box
Dual BNC and USB input cable
BNC female to female coupler
BNC to RCA plug adapter
Dual VGA and USB input cable
Lens cloth and Op Drops cleaning solution
User manual
Pelican Case for secure storage and shipping

Updating...