Visette 45 SXGA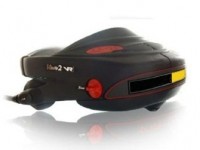 The new Visette 45 SXGA supports every resolution up to SXGA (1280x1024). The 45 degrees (diagonal) Field of View in combination with the high resolution makes it the ideal tool for research and training applications. For an additional $650.00 a See-Through option is also available!
Add a Head Tracker to track your head movement up, down and side to side like you are really there!
General Features:
See-Through Optional
Low power consumption
Dual input signal for Video & PC (3D version only)
Specifications:
Display: FLCOS
Resolution: SXGA (1280X1024)
Pixel pitch : 13.62
Color depth: 24 bits
Response time: 0.1ms
Active area: 0.88 inch
Contrast: 300:1
Screen size: 80"
Image distance: 2m
F.O.V.: 45deg [36deg(H) X 27.4 deg(V)]
Exit Pupil: 12mm(H) X 6mm(V)
Focal length: 280mm
Single(Basic): Analog RGB, DVI, Composite (NTSC/PAL), S-video
Dual(Option) : Analog RGB, DVI, Composite (NTSC/PAL), S-video
Input power: AC80 to 280 Free Voltage
Output sources: 5V, 3.3V

Updating...