InertiaCube3 (IC3)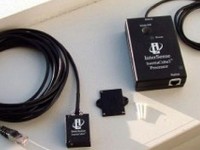 The InertiaCube3 (IC3) is designed to meet the demands of a mobile, sourceless, 3-DOF sensor. With an aluminum package, broader operating temperature range and low power consumption, the InertiaCube3 is ideal for head or body tracking in mobile simulation, training and situational awareness applications.
Along with the the SDK, the InertiaCube3 comes with heading calibration software providing compensation for static magnetic field distortions when deployed in adverse environments.
Features:
World's smallest inertial orientation reference system (26.2 mm x 39.2 mm x 14.8 mm)
Full integration of nine sensing elements ensures maximum accuracy, sensitivity and stability
Sourceless tracking provides full 360º range and eliminates line-of-sight restrictions
MagCal™ software for in-situ static, magnetic field compensation
Monolithic electronic design for superior alignment accuracy
Connects directly to the PC's RS-232 serial connector or USB port with optional USB adaptor
180 Hertz update rate eliminates tracker induced lag
Motion prediction, adjustable rotational sensitivity and control of output data filtering allows fine tuning for specific applications
Windows 98, 2000, NT, XP, and CE dynamic link library available
Linux, IRIX and Mac OS X shared object libraries available
PC Software interfaces up to 32 InertiaCube3's to application
Windows control and connectivity software provides sensor configuration, network interface and joystick emulation
Supports a standard I2C interface bus allowing custom wireless button, indicator or analog interfaces for OEM applications

Updating...