VirtualCube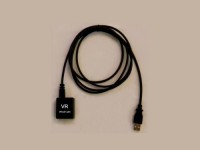 Exceptional affordability, stable, drift free performance and compact styling converge in VirtualCube, 6 Degree-Of-Freedom (6-DOF) orientation tracking system, offering remarkably simple setup and implementation. With VirtualCube, you get high performance without paying a high price. VirtualCube delivers fast update rates, low latency and high resolution, making it ideal for head mounted display-based (HMD) virtual reality, game, simulation and training applications.
Performance and affordability:
VirtualCube tracks one sensor at 125Hz. VirtualCube's on-board microprocessor ensures an absolutely stable update rate regardless of the Windows operating system. VirtualCube never ties up your CPU to make complicated calculations. It has no angular limitations and provides full 360 degree coverage.
VirtualCube includes powerful software tools and a mouse emulation driver. The included software developer's kit (SDK) facilitates rapid integration into custom applications.
Advanced Motion Processing Features:
Orientation compensation – Compensates for tilt by translating motion from the body frame of reference to the user frame of reference.
Adaptive tremor removal – Cancels the effects of unintended motion caused by user tremor.
Power management – Performs wake-on-motion detection.
Specifications:
Degrees-of-Freedom: 6-DOF
Update Rate: 125Hz
Interface: USB 1.1 or 2.0
Host OS compatibility: Windows XP / Vista / 7 / 8
Dimensions (W/D/H): 1.00 x 1.00 x 0.75 in.
Power consumption: 5V 40mA max (from USB)
Linear Acceleration:
Range: ± 2 g
Bias (zero-g offset): < 100 mg
Sensitivity Accuracy: 2%
Non-linearity (% full-scale): 3%
Resolution: < 5 mg
Angular Velocity:
Range: ± 500 °/s
Bias (zero-rate offset): < 0.5 °/s
Sensitivity Accuracy: 3%
Non-linearity (% full-scale): 1%
Resolution: 0.5 °/s
Angular Position:
Range: Any orientation
Bias: < 5°
Resolution: < 0.3°

Updating...