G4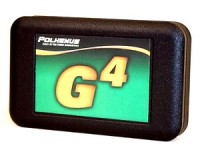 G4 is a compact, highly accurate wireless electromagnetic 6DOF motion tracker. The system provides real-time motion measurement, delivering the precision motion tracking that Polhemus' proprietary electromagnetic technology is known for, yet the G4 hub fits in the palm of your hand.
The size of a mobile phone, G4 can be belt-worn. G4provides tether-less motion, allowing for complete freedom of movement.
The small, lightweight sensors easily attach to the hands, head or feet--allowing a quick set up that isn't cumbersome and is ideal for motion tracking in dynamic environments.
G4 provides drift-free, highly accurate data results producing repeatable tracking performance. It's ideal for applications that require precision motion tracking, as it satisfies the standards of top researchers and meets the mark for the military.
Among motion tracking technologies, there are products that capture motion—and there are those that measure motion. G4 sets the standard for motion measurement, taking it to the next level. It boasts a resolution fine enough to measure even the slightest change in movement--without line of site occlusions. Data results provide both position and orientation calculations, without the complications of hybrid technologies.
10+ Hours of Battery Life
G4 was carefully designed with simplicity in mind and comes equipped with an interface that's user-friendly. It's an ideal motion capture solution for dynamic environments and situations where easy set-up is a necessity. G4 will be ready when you are, as setting up takes only a matter of minutes. 10+ hours of battery life and auto tracking recognition gives you a seamless stream of data, without the hassle of stopping and starting.
Exceptional Value
One of the most impressive features of G4 is its adaptability. As your needs evolve or expand, you can add on components to increase G4's capabilities even further. This versatility makes the already reasonably priced G4 an exceptional value for the long-term.
Applications
G4 creates new possibilities in many applications, including those for training and simulation, health care and physical therapy, and is particularly well suited for the following areas:
Rehabilitation and Physical Therapy
Bio-mechanics
Sports Motion Analysis
Training and Simulation
Cave and Dome Environments
Power Wall Applications
Ergonomics Studies
Human Factors Engineering
The G4 includes the following:
1 3-Channel Hub Kit (each system may accept up to 9 Hubs)
1 RF Link Dongle Kit
1 RF Link Extension Cable
1 Source Kit (each system may accept up to 8 Sources)
1 Sensor with 4' Cable
1 USB Cable
1 Calibration File/SDK/Manual CD
Available Add-Ons: 
Extra 3-Channel Hub Kit - $2500.00
Extra Source Kit - $1800.00
Extra Sensor - $600.00

Updating...