LIBERTY LATUS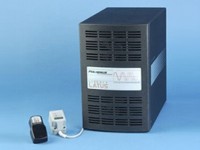 LIBERTY LATUS (Large Area Tracking Untethered System) cuts the cord, delivering a totally wireless, full 6 degree-of-freedom magnetic tracking solution. Capable of tracking up to 12 independent markers over large areas, LIBERTY LATUS offers exceptional speed and ease of use, facilitated by an intuitive graphical user interface (GUI) and a comprehensive software developer's kit (SDK). With optimized signal-to-noise ratios, LIBERTY LATUS offers remarkable stability, providing consistent, high quality data without wires. Experience a revolutionary new dimension in magnetic tracking with LIBERTY LATUS.
Indoor GPS Tracking Solution
Also available in 2D (X,Y for Longitude and Latitude replication) configuration, LIBERTY LATUS is the solution to INDOOR GPS tracking needs and integrator requirements. Operable with variable positional resolution, indoor GPS tracking can now be achieved in all environments including traditional steel shipping containers; stick built homes and structures; concrete facilities; and large, outdoor, operational fields of interest. LIBERTY LATUS - critical to the success and effectiveness of training, simulation, and mission rehearsal preparation.
The Wireless Revolution
LIBERTY LATUS represents a revolution in tracking, combining state of the art wireless functionality with unsurpassed performance. There are absolutely no wires--each marker is fully self-contained. Each marker is tracked in space by a receptor. Up to 16 receptors can be connected for hundreds of square feet of total coverage. For an even larger coverage area, multiple LIBERTY LATUS systems can be concatenated. Because of its short range distributed receptor architecture and enhanced signal-to-noise ratio, LIBERTY LATUS avoids distortion effects normally seen with long range electromagnetic systems.
Each system supports up to 12 markers. A proprietary magnetic data link ensures absolutely stable wireless communication regardless of how many markers and receptors are in use. The update rate is 188Hz for up to 8 markers or 94Hz for up to 9 to 12 markers.
The markers feature a compact design for seamless integration into your project. Each houses the electromagnetic source, control electronics and a lithium ion battery that provides up to 2.5 hours of power. The battery can be instantly removed for recharging. Each marker weighs 2 ounces and easily mounts on virtually anything, including the body with an optional body mount kit.
The receptors are small, lightweight cubes that can readily be mounted on practically any surface. Receptors contain electromagnetic receiving elements that detect the magnetic signals emitted by the marker(s). Each receptor has a 60 foot (18.3m) cable to accommodate large area installations. Each receptor covers up to 50 sq. ft. (4.7 sq m).
Incorporating the industry's most advanced hardware and software, the system electronics unit (SEU) processes signal from the receptors to compute position and orientation. The SEU conveniently connects to the host computer via RS-232 or USB.
Four receptor channels are included on the base product. The system can be upgraded to 8, 12 or 16 receptor channels by adding additional circuit boards to the same chassis.
The Tools You Need
LIBERTY LATUS includes a streamlined and intuitive Windows 2000/XP user interface that's stocked with useful tools. Three independent user definable profiles allow setting system parameters such as filtering, output formats, coordinate rotations and more. This valuable feature makes LIBERTY LATUS ideal for accommodating multiple users or applications. An integrated motion box provides navigable points of view for visualization and is also capable of displaying text data. The system offers versatile output capabilities, allowing users to select position in Cartesian coordinates (English or metric) and orientation in direction cosines, Euler angles or quaternions. Additional features include data recording and playback, plus rapid data exporting via Microsoft® Named Pipe.
LIBERTY LATUS includes a comprehensive and straightforward software developer's kit (SDK). The SDK features API libraries that facilitate easy integration into custom applications.
Advanced AC Technology
Unlike products based on pulsed DC technology, the LIBERTY LATUS is not negatively affected by the earth's magnetic field, power outlets or electric motors. Because AC tracking is also more accurate and faster, it's clearly the superior choice.
LIBERTY LATUS's advanced AC magnetic technology provides optimal signal-to-noise ratios. There is no need to worry about maintaining a clear line-of-sight between the receiver and transmitter. Unlike sonic or laser devices, LIBERTY LATUS is not affected by signal blocking and interference.
Specifications:
Degrees-of-Freedom: 6DOF
Number of Sensors: Wireless MARKER's 1-12
Update Rate: 188Hz (1-8 Markers ), 94 Hz (9-12 Markers)
Static Accuracy Position: 0.1in. (0.254cm) 1 Marker, Typical 1-3 in. (2.54-7.62cm)
Static Accuracy Orientation: 0.5° 1 Marker, Typical 1-3°
Latency: 5ms
Resolution Position at 30cm range: 0.00015in, o.0004cm
Resolution Orientation: 0.0012°
Range: Range is dependable upon desired accuracy
Extended Range Source: Can concatenate to cover large area
Interface: RS-232 or USB - Both Included
Host OS compatability: GUI/SDK 2000/XP/7
The LIBERTY LATUS includes the following:
1 Electronics Unit
1 Receptor
1 Marker
1 Null Modem Cable
1 USB Cable
1 QUAD Charger
1 Installation & Operation Guide
Two Year Warranty
Additional Add-Ons:
Extra Receptor- $1100.00
Extra Marker- $2495.00 

Updating...