PATRIOT Wireless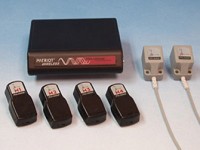 The PATRIOT Wireless represents a whole new dimension in affordable tracking technology, one that offers a totally wireless, full 6 Degree-Of-Freedom (6DOF) solution. The system has speed, ease-of-use via an intuitive Graphical User Interface (GUI), and is capable of tracking up to four independent markers. PATRIOT Wireless offers increased stability while providing consistent high quality data all while being completely untethered.
The Forerunner in Wireless Tracking Technology
PATRIOT Wireless is a true wireless tracking system. The system is capable of tracking up to four markers for full 6DOF solutions over large areas. Each wireless Marker comes standard with replaceable and rechargeable lithium battery assembly. For ultimate versatility, Markers are also available with an optional power pack adapter which provides flying power leads for integration into your existing power source.
Easy, Intuitive User Interface
PATRIOT Wireless comes standard with Windows® 2000/XP/Vista GUI and a comprehensive, easy to use Software Developers Kit (SDK). The GUI allows four independent user definable profiles for setting system parameters such as filtering, output formats, coordinate rotations and much more. This is a valuable feature for multiple applications or users. For visualization, an integrated motion box provides navigable points of view and can include text data. Additional features include a data record/playback component, plus the ability to quickly export data via Microsoft "Named Pipe".
A/C Magnetics: Increased Stability, Resolution, Speed and Range
Incorporating state of the art Digital Signal Processor (DSP) electronics in concert with A/C magnetics provides the user with increased range, stability, resolution and speed. The system is essentially unaffected by facility power grids or electric power motors and update rates are always maintained, allowing for consistent, high quality data.
Specifications:
Degrees-of-Freedom: 6DOF
Number of Sensors: Wireless Markers 1-4
Update Rate: 50Hz per Marker
Latency: 20ms
Resolution Position at 30cm range: 0.0015in, 0.0038cm
Resolution Orientation: 0.003°
Interface: RS-232 or USB - Both Included
Host OS compatibility: GUI/SDK 2000/XP/7
The PATRIOT Wireless includes the following:
Two Receptor Channels
One Serial RS-232 Output Port
One USB 1.1 Output Port
One Null Modem Cable
One USB Cable
User's Manual, Software and SDK CD
Battery Assembly
Quad Battery Charger
Two Year Warranty

Updating...