21MX-SL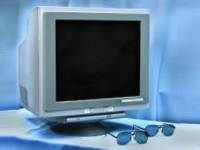 The 21MX-SL is the premier monitor for high quality stereoscopic viewing. With its high speed, fully integrated stereoscopic modulator; the 21MX-SL enables complex data to be represented with true three-dimensional images.You can look more clearly at problems and identify solutions, gaining insights and information available only with a stereoscopic display.
The 21MX-SL works in tandem with polarized stereoscopic viewing glasses; no other devices are needed. Designed for comfort and convenience, a pair of the featherweight glasses can be worn for hours with no eyestrain.This stereoscopic display technology allows you to move about freely with no loss of 3D effect - and look at monitors close by with no interference. And because the 21MX-SL is designed for simultaneous viewing by multiple users, two pairs of standard polarized glasses and two pairs of clip-ons are included with the monitor.
Utilizing the State-of-the-art Sony color monitor, the 21MX-SL works with all of today's stereo-ready workstations, PCs and software. It features multiple display modes and is readily adaptable to most industrial applications, providing an exciting new window of discovery for researchers, scientists and engineers.
Specifications:
Monitor Viewing Area: Width 15.2" (386mm) Height 12.1" (307mm)
Diagonal Viewing Dimension: 19.4" (493mm)
Display Resolution: Stereoscopic - 1280 pixels x 1024 lines at 120Hz field rate, Normal - 2048 pixels x 1536 lines at 85Hz field rate
Stereoscopic Functional Modes: Page Flip, Interlaced or Picture over Picture (over/under)
Controls and Connectors: Video Connectors - 15-pin High Density D Connector Signals - R,G,B,VS,HS,F (RS34-3A) BNC - External Frame Synch Frint Controls - Stereo on/off; field reverse

Updating...