Dimen G170S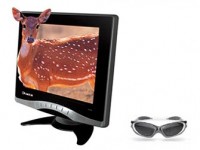 Dimen G170S is a 3D LCD monitor using a specialized plate and polarized glasses, it can be used in a 2D or 3D mode. The specialized plate is an electro optic panel that changes the polarized direction of light in a line unit. It simultaneously displays left eye images and right eye images by using the principle of passing odd line light as it is, but passing even line light after delaying its phase by 180 degrees. By wearing polarized glasses, users can enjoy 3D spatial images.
Specifications:
Max Resolution: 2D - 1280 X 1024, 3D - 1280 X 512
Screen Size: 17" diagonal
Pixel Pitch: 0.264mm (H) x 0.264mm (V)
Contrast: 500:1
User Menu Button: Input Image Format Selection Button, Left / Right Button, OSD Button
Stereo Formats: Interlaced Stereo, Frame Sequential
Input Signal: Analog RGB, DVI
Power Consumption: DC 12V / 2.6 A
Dimension: 445 X 445 X 240 mm

Updating...