Philips 3D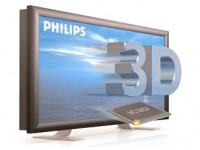 Philips 3D Solutions offers a 42" auto stereoscopic 3D display family, for professional applications, that provides today's best 3D viewing experiences. The slanted multi-view lenticular lens technology affords full brightness and full contrast and allows multiple users to view 3D content at the same time, within a large comfort zone. Moreover, a true color representation is ensured by the lenticular lens technology.
The display is based on a High Definition panel and thus enables great picture quality in 2D and 3D mode. Integrated advanced display signal-processing offers content creators and end-users full control over the quality and depth-effect characteristics of the picture. Furthermore, a flexible 3D data interface, in the form of 2D-plus-depth, allows easy creation or adaptation of applications and content for the display.
Features:
Exciting out-of-screen 3D effects
Immediately grabs the attention of the viewer
Auto stereoscopic display
No need for special 3D glasses
Multiple users experience 3D at the same time
Large 3D viewing zone
Multi-view lenticular technology Full brightness and full contrast True color representation High quality 3D and 2D mode
2D high-definition video playback
Auto sensing between 2D and 3D mode
End-to-end system solution
From content creation to visualization
Integrated intelligent signal processing
Flexible 3D data format through 2D-plus-depth
3D application performance and distribution bandwidth close to 2D
3D content enabling products (optional)
OpenGL Vizualizer and Control
Real-time stereoscopic video to 3D conversion
Plugin-ins for popular 3D animation software available
Specifications:
Auto stereoscopic 3D display: 9 view
3D Technology: fixed lenticular
Optimal viewing distance: 3 meters
3D perception: wide comfort zone
Image diameter: 42"
Resolution: 1,920 x 1,080 x RGB (HD)
Aspect ratio: 16 : 9
Display colors: 16.7 M colors
Brightness: 460 cd/m2
Contrast: 1000:1
Response time: 8 ms
Input format: 2D-plus-depth in 3D mode
Front screen protection: Protective sheet

Updating...