SeeFront 21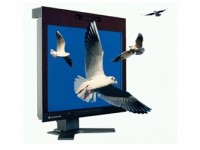 Designed specifically for the professional industry, where they require the highest possible image quality along with precise 3D in-depth measurement at all times. The 21" SeeFront Display is a single-viewer display, while providing the best quality of 3D imagery towards on user.
Different from the other single user 3D display solution, our SeeFront solution is equipped with an eye-tracking system, where it will record the user's position and the screen image is updated automatically to match the changing position of the user, ensuring a comfortable, fuss-free 3D experience.
Specifications:
Panel Size: 21.3" (54 cm)
Display: EIZO FlexScan S2100-M S-PVA
3D System: 2view Single-User SeeFront 3D®
3D Viewing Angles: H +/- 45?, V +/- 30?
Interlacing Mode: SeeFront 3D®
Tracking System: Camera based eye tracking 2 Point Grey Firefly MV IEEE1394 cameras
Viewing Distance: 0.55-1.05 m (1.8-3.4 ft)
Native Resolution: 1600×1200
Native Pixel Pitch: 0,270×0,270 mm
Display Colors: 16.2 million
Native Brightness: 300 cd/m2
Native Contrast: 1000:1
Input Terminals: 1×DVI-D; 1×Mini D-sub 15 pin
USB Port/Standard: 1 upstream, 2 downstream / Rev. 2.0
Response Time: 8ms
Horizontal Frequency: 24 - 80 KHz (Digital: 31 - 76 KHz)
Vertical Frequency: 49 - 76 Hz (Digital: 59 - 61 Hz)
Video Bandwidth: 162 MHz (Digital 162 MHz)
Plug & Play: VESA DDC 2B
Power Management: VESA DPMS, DVI-DMPM, EIZO MPMS
Power Consumption: max. 70 W Power Consumption, < 2 W Power-Consumption in Off-Mode, on-off Switch
Dimensions (WxHxD): With Stand : 486×500×208.5 mm
Without Stand: 486×420×68 mm
Height Adjustment Range: 82 mm
Net Weight: ~13 kg
VESA Wall Mounting: 100×100 mm
Supplied Accessories: Power supply, Sub-D VGA cable, DVI-D - DVI-D cable, USB cable, user's manual

Updating...