Stereoscopic Display Kit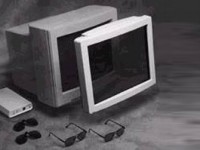 17SX/21SX Stereoscopic Display Kit - consisting of a stereoscopic viewing panel and polarized viewing glasses - bring a new dimension of reality to desktop R&D. The viewing panels feature a high speed liquid crystal modulator, and are easy to install, enabling your current 17 or 21 inch monitor to be conveniently upgraded for high quality stereoscopic visualization. Complex data can be represented with true three dimensional images, providing insights and information available only with a stereoscopic display.
Once the mounting bracket is attached to the monitor, the viewing panel can easily be taken on and off as required. It works in tandem with circular polarized stereoscopic glasses; no other devices are needed. Designed for comfort and convenience, a pair of the feather-weight glasses can be worn for hours with no eyestrain.
The 17SX/21SX stereoscopic display technology allows you to move about freely with no loss of 3D effect - and look at other monitors with no interference. An anti-reflective coating serves to minimize reflections. And because the 17SX/21SX display kits can be used for simultaneous viewing by multiple users, two pairs of standard polarized glasses and two pairs of clip-on polarized glasses are included.
The17SX/21SX display kits are compatible with all of today's stereo-ready workstations, PCs, and software. They are readily adaptable to most industrial applications, providing an exciting new window of discovery for researchers, scientists, and engineers.

Updating...