SVI MU 8.4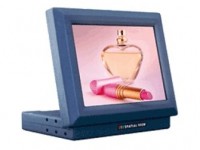 Specially designed for in-store advertising, this display with its attractive compact shelf size and high quality resolution is the perfect eye-catcher.
Featuring cutting edge 3D technology with optimal brightness and dynamic color depth, this display's convenient size makes it great for close interaction with the customers, such as Point-of-Sales display, cashier counter, vending machines and much more.
It is a great channel to increase your customer's desire to purchase, and deliver brand promotion at the same time.
Specifications:
Display Size: 8.4" (21 cm)
Resolution (dpi): 1024x768 (152 DPI)
Aspect Ratio: 4:3 (1.33)
Contrast: 400:1
Brightness: 400 cd/m²
Viewing Distance: 0.7-1.2m
Connector: DVI
Unit Size: 250 x 200 x 100 mm
Unit Weight: ~ 2 kg 

Updating...