Virtual Window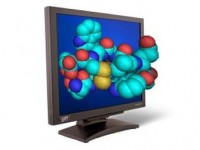 The Virtual Window is designed to meet the demands of designers, researchers, scientists, and engineers. The Virtual Window is 2D/3D switchable, so you can replace your existing CRTs, and save considerable space on the desktop.
The new Virtual Window comes standard with DVI-D input, a feature many of our customers have been asking for. Of course it also equipped with a standard VGA input.
The Virtual Window has three user-selectable stereo modes for compatibility with most 3D sources (Side-by-Side, Frame Sequential, and Field Sequential), conveniently controlled through a USB connection.
The optional Video Expansion Box will allow your Virtual Window to display real-time 3D video from two S-video cameras or a DVD player with pre-recorded 3D content.
The Virtual Window delivers an unprecedented level of no-glasses 3D viewing performance. Whether your viewing objects inside the screen, or jumping off the screen, the Virtual Window is absolutely best in class.
Key Features:
Large 19" diagonal screen
3D mode without glasses
Digital (DVI-D) and analog (VGA) inputs
1280 x 1024 resolution
Super fast 8ms response time
The Video Expansion Box connects directly to your Virtual Window and allows for S-Video input.
If your application is live video, you can directly connect two S-Video cameras into the Video Expansion Box and view them on the Virtual Window in 3D. You can also control the contrast and brightness for each video signal via the Video Expansion Box.
If you have prerecorded stereo content you can simply plug your DVD player or VHS player into one of the S-Video inputs and view the content on the Virtual Window.

Updating...