VisBox -P1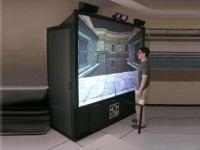 The VisBox is an affordable immersive 3D display. The system provides large, passive stereo imagery within a small footprint.
The VisBox makes use of the newest in bright, sharp digital projectors. The turn-key VR option adds the newest in PC graphics workstation hardware, a 6 DOF tracked input device (wand), and the VisTrack wireless optical head-tracker. The result is a system that outperforms much more expensive traditional VR hardware.
The VR software environment includes a simple to use VisBox API, complete with demo applications. In addition, the system is pre-configured for use with common VR libraries such as CAVElib, FreeVR, vrJuggler, and DIVERSE.
The VisBox-P1 model features portability. The system folds down in seconds to a profile of 33" wide and 80" tall, allowing it to roll through doorways. The system is configured with XGA (1024x768) projectors, with light output of 2500 lumens per projector. Like the the other VisBox models, it is available either as a stand-alone 3D stereo display or as a turn-key projection-based VR system with head and wand tracking.
Specifications:
Resolution: XGA (1024x768)
Screen size: 80"x60" screen, rear-projection unit, only 55" deep
Footprint in use: 84"w x 88"h x 55"d
Footprint folded: 84"w x 80"h x 33"d
Includes:
Two digital XGA projectors, 2500 lumens each
Free-standing enclosure with dual front-surface mirrors
Hidden casters for movement within room
Custom projector positioners
Linear polarization filters and 10 pairs of glasses
Video and power cabling
Option - Circular Polarization:
Circular polarization filters and 10 pairs of circular glasses
Option - Tracking Package
Option - Turn-key VR system:
Tracking package
Graphics workstation with NVIDIA graphics
Speakers and amplifier
Software:
VisTrack server
Development libraries: boxlib, FreeVR, vrJuggler, DIVERSE
Demos and applications: BOXfly, BOXnav, VTK examples, CAVE QUAKE, others

Updating...