VisWall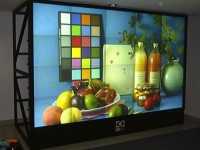 The VisWall product is an affordable and scalable high resolution display. The tiled display wall is achieved by the highly accurate alignment of many separate projectors. The VisWall allows small groups of people to collaboratively examine incredibly detailed imagery or incredible amounts of information at once.
The VisWall is custom designed and built for each customer according to size and resolution needs. Parameters include individual projector resolution, number of projectors, and individual tile size.
Pictured on this page is the 15.7 Megapixel VisWall-20x from the Center for Computational Research at the University at Buffalo.
Display Hardware:
High quality rear-projection screen
Free-standing aluminum support structure
6 DOF custom projector positioners
High quality, bright digital projectors mounted on positioners
Power, video, and RS232 (projector control) cables to each projector
Rendering Cluster: (Optional)
One high-end workstation (the head console display)
Cluster of rendering nodes (one per projector) with high-end graphics
Infiniband or Myrinet networking for optimal performance
Software:
Support for OpenGL applications - WireGL and Chromium pre-installed
Distributed movie player - handles any sized movie frames in any standard image format
Large image display - interactively pan and zoom very large images
Large virtual desktop - run applications at high resolution or view many windows at once
Projector control - control projectors collectively or individually from front-end workstation
Display hardware can be purchased independently of rendering cluster.
Custom display configurations (size and resolution) are available.
The VisWall is custom designed and built for each customer according to size and resolution needs.
Considerations include:
Individual projector resolution
Number of projectors
Physical size of individual tiles
Aggregate resolution
Aggregate aspect ratio - 4:3, 16:9, other?
Aggregate physical size
Throw distance - space behind screen
Pixel density - pixels per inch
Passive stereo option - 2 projectors per tile
Graphics cluster node configurations
Graphics cluster networking options
Cabling types and distances
Power requirements
Cooling requirements
Many of these are interrelated. For instance, the depth of the display (the throw distance) is a function of individual tile size and projector model optics. Often, a customer has certain needs (e.g. aggregate resolution) and constraints (e.g. size of room) that help determine the appropriate solution.

Updating...