VisionDome 2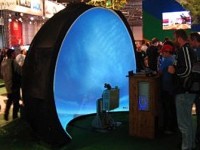 The VisionDome 2 is the entry level product in the VisionDome family of immersive domes. At 2.3-meters in diameter, the V2 is significantly larger than the VisionStation, yet still highly portable and easily integrated into a wide range of simulators and custom display systems. The VisionDome 2 has 1400x1050 resolution and comes in  a Hard Shell Dome.
Specifications:
Typical number of users: 1-3
Maximum Resolution: 1400 x 1050
Maximum Output: 6,500 Lumens
Contrast Ratio: 1500:1
Projector/Lens Options: VR lens with 180° horizontal x 135° vertical projection.
Included Equipment:
Hard shell dome and support structure, projector and lens combination, projector stand, software, documentation, cables and power cords.

Updating...