VisionDome 3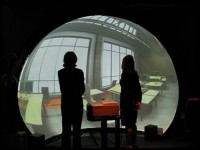 The VisionDome 3 is a mid-level product in the VisionDome family of immersive domes. At 3-meters in diameter, the VisionDome 3 is very affordable and ideal for mid-size workgroups, small audiences, or larger single-user applications. The VisionDome 3  has 1400x1050 resolution with 6500 ANSI Lumens. The VisionDome 3 comes in either a Hard Shell Dome (H) or a Fabric Dome (C).
Specifications:
Typical number of users: 2-5
Maximum Resolution: 1400 x 1050
Maximum Output: 6,500 Lumens
Contrast Ratio: 1500:1
Projector/Lens Options: VR lens with 180° horizontal x 135° vertical projection.
Included Equipment:
Hard shell dome and support structure or fabric dome & framework, fan boxes (fabric dome only), projector and lens combination, projector stand, software, documentation, cables and power cords.

Updating...