NuView 3D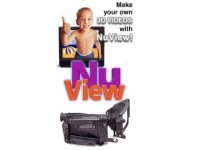 Everything You Need to Turn Your Camcorder into a 3D Movie Maker!
The 3D Portable 3D-Recording Set includes everything you need to make your own 3D Movies. The NuView 3D Adapter is a video camera add-on which turns almost any ordinary camcorder into a 3D movie maker. It attaches easily to nearly any consumer video camera and works for all current world-wide video and TV systems (PAL or NTSC). The 3D videos can be watched immediately with any standard DVD Player and the Virtual Visor or the the VR Pro 3D Video. The recorded material can be copied and edited, just like any standard video recording, with no special equipment required. It's the Ultimate Camcorder Accessory! Compared to earlier 3D video recording systems which were based on two separate cameras or expensive double-lens cameras, the NuView is a major step forward in terms of price, handling and availability.
In minutes you'll be making Off-the-Screen Stereoscopic 3D Movies!
The NuView 3D Camcorder Adapter is like a time machine in one small package. Watching your home movies in 3D will bring you right back to the time and places visited. The illusion of being there is much stronger than you'd get watching an ordinary 2D video - you might even experience deja-vu! The 3D visuals produced by the NuView are as natural as using your eyes.
Features & Benefits:
Ease of Use: Installing and handling the NuView system is very easy - in fact, it's fun to use! Once attached to your video camcorder, the auto focus, exposure, zoom, and white balance camera functions are performed as usual. It's just as simple to use your camcorder to record in realistic, Stereoscopic 3D as it is to record in flat, dimensionless 2D.
Near Universal Compatibility: Works with most video camcorders and comes with multiple adapters.
Incredible 3D Video: Relive your memories of Vacations, Sporting Events, Weddings and Parties when viewing realistic, 3-Dimensional Video.
Low Cost: The NuView's inexpensive price tag, combined with its sturdy, professional design, enables low cost 3D Movie Production for professionals or home movie enthusiasts alike.
How it works:
The NuView adapter uses a LCD, flat polarizing beam splitter which allows two distinct views (left and right eyes) to enter the single lens of a camcorder, in order to provide a true Stereoscopic 3D image to be recorded and played back. A threaded optical adapter is first attached to the camera's filter threads, which provides a stable, optically aligned bayonet mount for the NuView . After the adapter is attached, the camcorder is used in a normal manner to view and record. To duplicate true Stereoscopic 3D visuals, the adapter provides the user with a simple single convergence control, which allows you to converge on objects near and far.
Product Details:
Easy to use on/off switch & selector for 2D 3D Left & 3D Right
Full instruction manual and tape which walks you through how to operate and use the NuView
Includes 2 CR2032 batteries which are lithium coin cell batteries & last approximately 50 hours. These batteries are inexpensive and very easy to find.
Accessories include: High Quality Carrying Bag, Lens Cleaning Cloth & a more compatible RCA to RCA & 3.5mm 3-contact jack.
Requirements:
The NuView requires a camcorder that will accept threaded filter rings and comes with 5 different sized rings (and we also have 8 more additional ring sizes available). Also certain digital camcorders which use progressive scan and compression technologies can destroy the 3D information, however with most of them you can simply turn off the progressive scan and it will work great!

Updating...