PC VR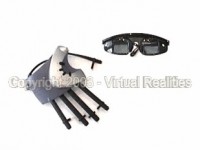 Wired 3D shutter glasses, P5 Glove, VR World Builder, conversion utilities, sample worlds, source code and games. Create your own 3D World or Interactive Game and manipulate it with the P5 Glove in True Stereoscopic 3D!
What system requirements are needed to run PC VR?
Windows 95/98/2000/ME/XP/7
233 MHz Pentium processor or greater
32 MB of RAM
4x speed CD-ROM
16 MB of hard disk space
DirectX compatible Sound Card
DirectX compatible 3D Accelerator required (4MB+) Nvidia or ATI
VR World Builder Features List:
Automated Double Buffering
Full-Screen Display Modes
AVI Animation Control
MIDI Music Control
3D and Environmental Sound Effects
MP3/MP2/MOD/XM/IT Support
Window Mode Support
Load: BMP, RLE, DIB, DDS, JPG, PCX, PNG, PSD, TGA, TIFF files
Save: BMP, RLE, DIB, DDS, JPG, PNG, TGA files
Super-Fast 2D blitting
Mirror, Stretch, Blur and Fade
Screen-Sized sprites
Transparency
Fast Collision
XOF and 3DS Files Supported
Landscape Terraforming
Built-in 3D Primitives
Dynamic Model Space
Polygon Collision Detection
Full Model Manipulation
Limb Animation
Lock Models to Screen
Model Animation
Ambient Lighting
Directional Lighting
Texture Filtering
Alpha Blending
Mip Mapping
Fogging
Sliding Collision
Object Occlusion
INPUT/OUTPUT FEATURES:
P5 Glove Control
VR-3D Glasses Control
Mouse Control
Keyboard Control
Force-Feedback Control
Gaming Device Control
System Handling
File Handling
File Compression
FTP Support
EDITOR FEATURES:
User Friendly Interface
Integrated Help System
Extensive Examples and Tutorials
Command Line Interface
Save As Single Executable

Updating...