VR Racer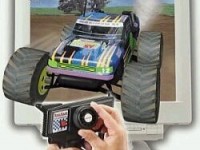 You can race alone, against up to 7 other drivers on the Internet or against a computer generated opponent you create, all in eye-popping 3D!
Drive any of the 15 vehicles as is...or modify their appearance and performance in any of 120 ways. You can choose from a dozen tracks, and run the Gauntlet, take the Big Jump and pit your skill against obstacles such as the "Lazy Susan" and catch the action from the driver's stand, the cockpit, a chase car - or all three at once with Multi-cam Picture-in-picture.
You can do it all with VR Racer, the most advanced R/C driving simulator ever! It's all available on a single CD-ROM and comes with a Futaba style pistol controller, 3D Glasses and PC Interface.

Updating...