March 25, 2013 by admin
Filed under
Comments Off on DepthQ HD 3D
The new DepthQ HD 3D video projector is the world's first portable WXGA stereoscopic 3D projector, offering rock-solid 120Hz stereo 3D at 1280×720 resolution.
These bright, professional-level 3D projectors can easily display 12 ft (3.7m) diagonal 3D high-definition images using the latest Texas Instruments DLP® and BrilliantColorTM technologies – for stunning colors, a 2000:1 contrast ratio, and a truly unprecedented level of price-performance.
Affordable – A fraction of the cost of other single-lens 3D projectors.
Portable – At 6.9 pounds it fits under your arm and takes 5 minutes to set up.
Quality – Flicker-free, 120hz HD 3D with DLP™ BrilliantColorTM technology.
Versatile – Work live in 3D-enabled applications; quality control 3D film or video game development; bring 3D movies and games into your home.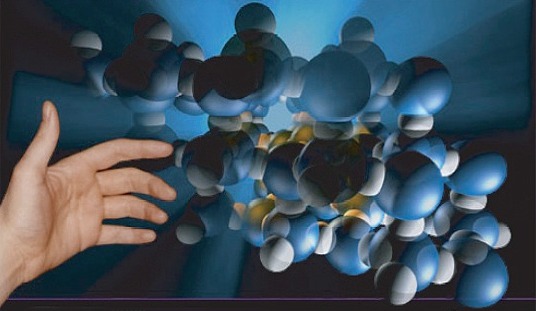 Product Design, Engineering and Research
Stereo 3D is scientifically proven as the most effective way to communicate visual ideas. The new DepthQ HD 3D projectors make stereo viewing an affordable choice for anyone working in collaborative design or R&D. Engineers, product designers and research scientists alike will appreciate the practical value of large, high-resolution, real-time 3D projection.
Information Analysis
Whether your focus is energy exploration, geophysical & geographical data analysis, or health and life sciences, DepthQ HD 3D projectors can help you work more efficiently with complex 3D data.
Film Production & Video Game Development
When checking stereoscopic accuracy in 3D productions, a large image with high resolution is critical. DepthQ HD 3D projectors provide a cost-effective solution with large, bright, HD-quality 3D images.
Home Video Games and Movies
Talk about immersive! Imagine playing video games or watching movies ten feet wide in HD 3D! The next generation of stereo-ready games and films are on their way, and the new DepthQ high-definition 3D projectors let you bring the excitement of 3D into your home in a BIG way. (DepthQ projectors are also compatible with 2D movies and games, and deliver up to 120 frames per second.)
Specifications:
3D Aspect Ratios: 16:9 or 4:3
Display Technology: DLP® by Texas Instruments: 0.55″ LVDS DDP2230 with BrilliantColorTM
Stereoscopic Compatibility: 120 Hz vertical sync, page flip, two frame delay
Brightness:
3D Mode:
Approximately 2000 Lumens (standard mode)
Approximately 1440 Lumens (eco mode)
2D Mode:
Approximately 2500 Lumens (standard mode)
Approximately 1800 Lumens (eco mode)
Contrast Ratio: 2000:1 Full On/Full Off
3D Data Compatibility: WXGA (1280×720), XGA (1024×768), SVGA (800×600)
2D Data Compatibility: VGA (640×480), SVGA (800×600), XGA (1024×768),
SXGA (1280×1024), SXGA (1400×1050),
WXGA (1280×720), WXGA+ (1440×900)
2D Video Compatibility: NTSC, PAL, SECAM, 480i, 576i, 480p, 576p, 720p, 1080i
Native Resolution: WXGA (1280×720)
2D V-Sync Range: 50-120Hz
2D H-Sync Range: 31-93kHz
3D V-Sync: 120Hz
3D H-Sync: 77-93kHz,
Color Wheel (DLP Only): 5-segment
Projector Placement: Ceiling Projection, Front Projection, Rear Projection
Keystone Correction: +/- 20 degrees Vertical
Lamp Wattage: High Bright: 200 Watts
Eco Mode: 170 Watts
Lamp Life‡ : High Bright: 2500 Hours
Eco Mode: 3000 Hours
Standard Lens Zoom: 1.1:1
Image Offset: 115% Vertical (1 meter tall screen requires 1.15 meters from lens centerline to top of screen)
Inputs and Outputs:
2D/3D VESA (HD15): Number of Inputs: 2; 15-pin VGA
2D S-Video: Number of Inputs: 1; 4-pin mini-DIN
2D Composite (RCA): Number of Inputs: 1
2D Component (RCA): Number of Inputs: 2 (requires optional VGA to Component adapter)
2D Standard Definition TV: Composite RCA, S-Video
2D Enhanced Definition TV, High Definition TV: VGA
Projector Control: Projector Keypad, Remote, USB, RS-232
Audio: Stereo 3.5 mm Mini-jacks (input and output)
Monitor Output: 2.0 Watt mono speaker
General:
Audible Noise: 35 dB
Power Supply: 100 – 240 Volts at 50 – 60 Hz
Typical Power Consumption: 220 Watts
Maximum Power Consumption: 250 Watts
Dimensions: Height: 3.9 in (9.91 cm)
Length: 9 in (22.86 cm)
Width: 11.7 in (29.72 cm)
Weight: 6.9 lbs (3.13 kg)
Shipping Dimensions: Height: 9.4 in (23.9 cm)
Length: 13 in (33 cm)
Width: 16.5 in (42.7 cm)
Shipping Weight: 11 lbs (5 kg)
Projector Warranty: 2 years
Lamp Warranty: 6 months
Accessories Warranty: 90 days
Menu Languages: English, French, German, Italian, Norwegian, Portuguese, Simplified Chinese, Spanish, Korean, Russian, Traditional Chinese
Approvals: UL and c-UL (US/Canada), FCC-A (US/Canada), CE (CE member countries), GOST (Russia), TUV GS (Germany), CCC (China), IRAM (Argentina), NOM (Mexico), C-Tick (Australia), MIC & eK (South Korea), PSB (Singapore)
Ships Standard With: Lamp. 2500 hour rated lamp life. (SP-LAMP-039)]
Power Cord (US), 6ft/1.8m (516-0052-50)
VGA Computer Cable (6.6ft/2m) (210-0282-50)]
Soft Carry Case (Soft-Carry-Case)
Navigator II Remote (HW-NAVIGATOR-2)