VR Pro ST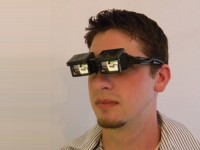 Augmented Reality and High Resolution 1920x1080!
The VR Pro ST is a new light weight, high resolution 1920x1080 (WUXGA) augmented reality display made for everyday use. The VR Pro ST is compatible with a wide range of computer and video input formats, providing the user with an immersive, stereoscopic, large screen image for a wide range of augmented reality and simulation applications.
The VR Pro ST has a wide 60 degree field of view with two separate inputs. The VR Pro ST will connect to any dual VGA, DVI, Composite or S-Video source. The see-through optics will let you see your surroundings as well as the virtual image projected inside of the virtual display and the included VirtualCube head tracker will track your head movement 360 degrees.
Specifications:
Resolution: High resolution, full-color, WUXGA 1920x1080 pixels per eye
Field of View: 60 degrees
Input Signal: 2 x VGA, DVI, Composite, S-Video - NTSC/PAL
Modes: 2D and 3D Stereoscopic
Brightness: 50 fl
Contrast: >1000:1
Overlap: 100%
See-thru Transmission: 40%
Eye Relief: 25MM
Weight: 8 oz
Control Functions: Brightness, Contrast, Sharpness and Volume
Audio: Supports any ear bud/headphone System - Plug-N-Play
Tracking: Most trackers supported
Power Consumption: 9V
Adaptor Included: 110-130V AC or 220-240V
Manufactured, Trademarked and Warranted by Virtual Realities, Inc.
The VR Pro ST is available only through Virtual Realities, Inc. and will not be sold or warranted through any other site.

Updating...