Z800 Pro AR

NEW AUGMENTED REALITY HMD!
The Z800 Pro AR (Augmented Reality) head mounted display comes in either a single or dual VGA input version, standard or ruggedized. When both integrated cameras are attached to your Windows computer they will stream perfectly synchronized 800x600 3D to your PC applications. One camera can be used instead of the two for monoscopic viewing. The cameras and VGA signals can then be augmented by a PC and viewed together as a virtual image inside the glasses. The parallax-plane (convergence) of the cameras is manually adjustable to have realistic 3D-effects in different working distances.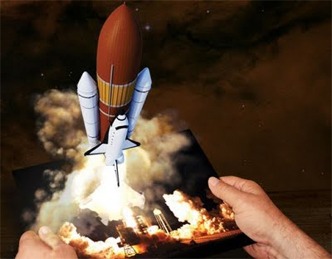 Two high-contrast SVGA 3D OLED Micro displays deliver fluid full-motion video in more than 16.7 million colors. Our highly responsive head-tracking system provides a full 360-degree angle of view. And the specially developed optics deliver a bright, crisp image with a nearly 40 deg field of view.
Weighing less than 8 oz, the Z800 Pro AR is compact and comfortable. While the OLED displays are only 0.59 inch diagonal, the picture is big – the equivalent of a 105-inch movie screen viewed at 12 feet!
Only OLED displays provide brilliant, rich colors in full 3D with no flicker and no screen smear. The patented OLED-on-silicon technology enhances the inherently fast refresh rates of OLED materials with on-chip signal processing and data buffering at each pixel site. This enables each pixel to continuously emit only the colors they are programmed to show.
Full-color data is buffered under every pixel to ensure flicker-free video with stereo vision capability. The Z800's head-tracking system enables users to experience their data in full 3D surround viewing with just a turn of the head. The head tracker comprises three compasses, three gyros, and three accelerometers, and it can track motion on all axes.
Virtual multiple monitors can also be simulated. Designers, publishers and engineers can view multiple drawings and renderings as if they were each laid out on an artist's table, even in 3D.
The Z800 Pro AR integrates state-of-the-art audio with high-fidelity stereo sound and a built-in noise-canceling microphone system to place you INSIDE the virtual action. Add the optional battery and charger for complete portability!
The standard Z800 Pro AR has two color, SVGA, USB cameras and one VGA input. The Z800 Pro AR Dual has two color, SVGA, USB cameras and dual input support for separate left and right VGA channels.
The Z800 Pro AR standard version comes as pictured, with elastic headband and ear bud speakers. The Z800 Pro AR Ruggedized version comes with a head mounted ratchet assembly, external headphone speakers and battery / charger.
Specifications:
Camera: 2x Color, SVGA, USB 2.0
Convergence: Manually adjustable
Focus: Manually adjustable
Full SVGA stereo vision: (800x600) OLEDs
Field of View: 40 Degrees Diagonal
Image Size: 105" at 12'
Color Depth: 24 Bit Input
IPD Adjustments: None Required
High contrast: 200:1 ratio
Full color: 16.7 million pixels
Low power: USB-powered visor
Lightweight, ergonomic: 8 oz visor
Built-in stereo sound and noise-canceling microphone
State-of-the-art head tracking device with six degrees of freedom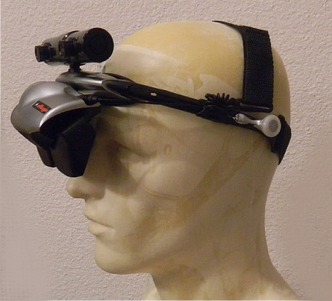 Updating...