ShapeHand

ShapeHand is a wireless, portable, lightweight hand motion capture system of flexible ribbons that capture hand and finger motion. ShapeHand's flexible sensors are not physically built into a glove and attach to virtually any glove and hand size.
ShapeHand Plus is the ShapeHand capture system integrated with an arm tracking ShapeTape. ShapeHand Plus tracks complete hand and arm movements and poses including rotations and deviations.
Independent Glove Design

ShapeHand's glove system has two components, a data capturing component of sensors and a glove. The glove component of ShapeHand is essentially that of a leather sports glove. Gloves can be interchanged to accommodate different wearers and sizes and disposed of when desired. ShapeHand's sensor component is easily attached and de-attached to the glove component.
ShapeHand delivers the unique capability of being able to dispose of the glove component once it is dirty or worn. The sensor hardware simply detaches and reattaches to gloves. Unlike other glove systems which are one-size-fits-most, ShapeHand is designed to properly fit different hand sizes. Its unique design of attachable/detachable sensor component allows different sized gloves to be used. ShapeHand systems ship with small, medium and large gloves that can accommodate most sized hands.
Ambidextrous Design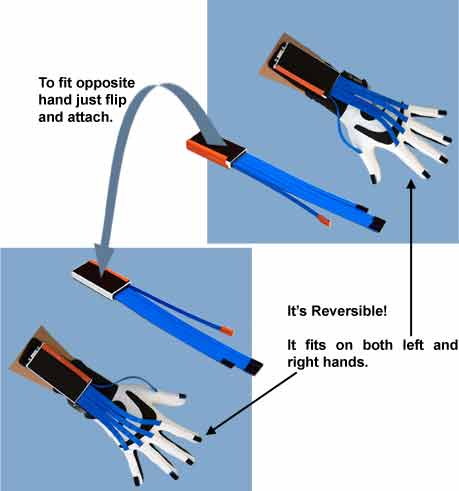 ShapeHand and ShapeHand Plus work on a left or right hand. So, unless you need simultaneous capture of both hands you can use one ShapeHand to capture left and right hands.
Wrist, Finger & Thumb Capture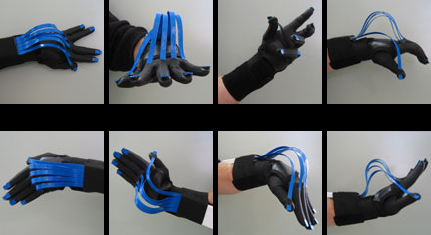 ShapeHand and ShapeHand Plus capture a full range of wrist, finger and thumb movement including:
Abduction & Abduction
Flexion & Extension
Position and Orientation Measurement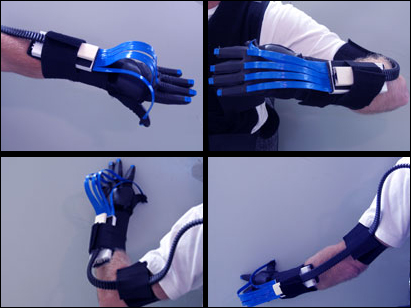 ShapeHand Plus captures complete hand and arm movements and poses including rotations and deviations.
Applications
ShapeHand and ShapeHand Plus are real-time hand capture devices that have a growing list of plug-ins allowing you to stream live hand data into your favorite 3D graphics or analysis software package, for the following applications and more:
Virtual Reality
Hand Capture for Character Animation
MRI Research (ShapeHand MRI)
Gesture Recognition
CAD
Tele-Robotics
Motion Analysis
3D Input
Sign Language
Puppeteering
Multiple Data Formats
ShapeHand outputs to the following data formats:
Cartesian Coordinates
C3D Marker Data
BVH Skeletal Data
Compatible Software
ShapeHand & ShapeHand Plus work with the following software packages:
Alias MoCap
XSI
Motion Builder
Motion Builder Pro
JACK
Character Studio
ShapeRecorder
MRI versions of both ShapeHand and ShapeHand Plus are available, offering all the above features and benefits but built for use in MRI environments.
The ShapeHand System includes two wrist harnesses to mount the ShapeHand on either wrist, one lower arm strap, and 4 leather gloves (2 Small, 2 Medium - 2 Left and 2 Right). A power adapter, a serial cable with power injector, serial to USB Edgeport/1 converter and the ShapeRecorder software.
The ShapeHand Plus System includes the ShapeHand and the normal components that come with the ShapeHand. In addition, it comes with the ShapeTape for the arm, an upper strap for the arm tape, and a velcro vest that includes a thoracic rigid body into which the ShapeTape for the arm is placed and the electronic box of the ShapeTape is attached.

Updating...