InertiaCube4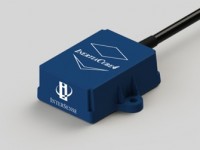 The InertiaCube4 offers superior performance over its predecessors while minimizing size and price. The sensor is ideal for real-time applications in simulation & training, virtual & augmented reality, motion capture, and human movement analysis.
The InertiaCube4 integrates the latest in MEMS inertial technology and utilizes advanced Kalman filtering algorithms to produce a full 360° sourceless orientation tracking sensor.
Features:
Sourceless 3DOF tracking with full 360° range
Accuracy of 1° yaw, 0.25° pitch & roll
200 Hz update rate
2000° maximum angular rate
Adjustable output filters and rotational sensitivity
In-situ and environmental Compass Calibration Tools for static magnetic field compensation
Native USB or RS232
Specifications:
Degrees of Freedom:
3 (Yaw, Pitch, and Roll)
Angular Range:
Full 360° - All Axes
Maximum Angular Rate:
2000° per second
Minimum Angular Rate:
0° per second
Accuracy (RMS):
1° in yaw, 0.25° in pitch & roll at 25°C
Angular Resolution:
0.01° RMS
Update Rate:
200 Hz
Minimum Latency:
2 ms for RS-232 (PC host OS dependent)
Prediction:
Up to 50 milliseconds
Serial Rate:
115.2 kbaud
Size:
1.44 in. x 1.09 in. x 0.55 in.
(36.6 mm x 27.7 mm x 13.8 mm)
Weight:
0.39 ounces (11 grams)
Cable Length:
15 ft. (4.572 m) for RS-232 Version
6 ft. (2.0 m) for USB Version
Power:
6 VDC, 40 mA
Operating Temp. Range:
0° to 50° C
O/S Compatibility:
.dll for Windows 7/XP
.so for Linux
.dylib for Mac OS X
Compliance:
CE, UL, RoHS

Updating...