5DT HMD 800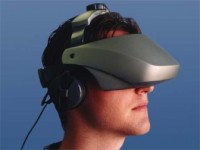 The 5DT HMD 800 Series of Head Mounted Display offers the user affordable quality, high resolution (SVGA), a crisp image and superior sound quality packaged in a sleek, comfortable and extremely light head mount design. The 5DT HMD provides for user configurable immersion levels. Other features are adjustable top/back ratchets, a mounting base for head trackers and a flip-up mode for reality checks. The 5DT HMD 800-26 comes in either a 2D or 3D version with a 26° field of view. The 5DT 800-40 is 3D only with a 40° field of view.
Features:
Affordable quality
Adjustable top/back ratchets
Lightweight
Cable organizer
Mounting base for head trackers
Crisp SVGA image
Extreme comfort
Flip-up mode for reality check
High quality headphones
Specifications:
Resolution: 800x600 per display
Field-of-View: 26° or 40° Diagonal
Display Technology: LCOS or OLED
Stereo Vision: 2D & 3D Versions Available
Stereo Mode: Frame Sequential Stereo
Weight: Approximately 600g
Headphones: Senheiser HD25 (16Hz-22kHz)

Updating...