VR Pro WUXGA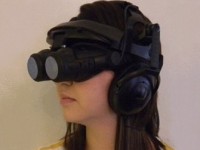 A Virtual Realities Exclusive!
The VR Pro WUXGA is compatible with a wide range of computer and video input formats, providing the user with an (1920x1080 WUXGA) high resolution, Stereoscopic 3D image at an affordable price.
The VR Pro WUXGA has an injection molded body that is built to withstand the most demanding applications, the user friendly 'twist adjustment' headband makes it easy to adjust to all head sizes. The VR Pro WUXGA combines a full sense of immersion even for people who wear eye glasses, so no more tedious adjustments, just put it on your head and your ready to go.
The PC - Video friendly, multi-user VR Pro WUXGA delivers immersive, stereoscopic, large screen visualization for a wide range of VR and simulation applications.
The VR Pro WUXGA has a 60 degree field of view and will connect to any single or two input VGA, DVI or Video Source.
The VR Pro WUXGA also includes an integrated VirtualCube head tracker.
Virtual Realities is the official manufacturer and supplier of the VR Pro WUXGA to NASA, The US Army, The US Navy, GE, Boeing, Lockheed Martin, SeaWorld San Diego, Duke University, DuPont, The Government of Canada, The University of California, Emory University,Texas A&M University, The Royal Military College of Canada, Teledyne Scientific , The Academy of Fine Arts in Krakow and many others.
Specifications:
Resolution: High resolution, full-color, WUXGA 1920x1080
Field of View: 60 degrees
Input Signal: 2 x VGA, DVI, RCA and S-Video - NTSC/PAL
Mode: 2D and 3D
Contrast: >1000:1
Control Functions: Brightness and Volume
Head Band: Ratchet head band offers a comfortable and secure fit
Tracking: Integrated 6-DOF VirtualCube tracker
Microphone: Included
Eye Relief: 25MM
Power Consumption: 9V
Adaptor Included: 110-130V AC or 220-240V
Manufactured, Trademarked and Warranted by Virtual Realities, Inc.
The VR Pro WUXGA is available only through Virtual Realities, Inc. and will not be sold or warranted through any other site.

Updating...