VR1 Monocular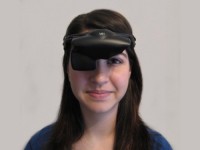 Wide Field of View PC and Video Monocular Imaging!
The VR1 Monocular is the perfect solution for mobile computing or video viewing offering an enhanced color depth of 24 bits with a light weight OLED display and packaging. The VR1 Monocular may be used for left or right eye viewing and has a built-in microphone. The pixel format is SVGA (800x600) with a wide 40 degree field of view. The VR1 Monocular can be powered from either a standard USB port with the supplied USB power cable or from the USB chargeable Li ion battery. The VR1 Monocular is compatible computers, composite and s-video sources and instruments that provide a SVGA signal at 60 Hz.
The VR1 Monocular standard version comes as pictured, with elastic headband and ear bud speakers. The VR1 Monocular Ruggedized version comes with a head mounted ratchet assembly and external headphone speakers.
The VR1 Monocular includes the following accessories: USB power cable, VGA extension cable, RCA composite video cable, S-Video cable, battery/charger, optical cloth and carrying case.
Specifications:
SVGA OLED panel (1.44 Million pixels)
800 x 600 resolution in true color
40° field of view
WEIGHT
Display: 3.0 oz.
INPUT FORMAT
SVGA: 800 by 600 at 60Hz
Composite and S-video, PAL and NTSC
Brightness and Contrast Adjustments
Built-in Microphone
Detachable Ear bud Speakers
BATTERIES
1 Rechargeable Li ion battery
4 hours of continuous use
CABLES
VGA Cable
USB Power Cable
Composite Video Cable
Audio Cable
POWER
USB or Battery

Updating...