LaserBIRD 2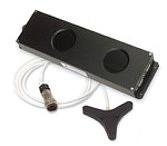 A precise optical tracker for the most demanding tracking environments. Designed for head and object tracking in simulator, medical and 3D visualization applications. laserBIRD's scanner continuously scans the work space. Its sensor instantly senses the laser beams. Signals are then directed back to the scanner's DSP electronics for processing and output of position and orientation data to a host computer.
Applications
Head/object tracking in simulators & virtual/augmented reality systems
Real-time navigation in image-guided medical procedures
Instrument tracking in surgical applications
Guidance & control of robotic devices
Bio-mechanical measurement and feedback
Features & Benefits
Scanning laser beam technology: No metallic distortion, drift, noise or acoustic interference. Ambient light resistant.
1mm Accuracy: Highest precision of all optical trackers.
Unique Prediction Capability: Customizable prediction parameters. Only predicts motion along axis of interest.
Measurement rate of 240 meas/sec: Instantaneous tracking solution without discernible lag.
Specifications:
Degrees of freedom: 6 (Position and Orientation)
Scanner Field of View:± 50° horizontal, ± 60° vertical to 0.75m, ± 54° vertical to 1.2m
Measurement Rate: 240 Hz
Lag: Tracking response: 5.17 ms; All filters off, Step Response: 9.34 ms.
RS-232 Reporting Time: 1.1 ms; 115.2 k Baud, Position and Euler Angles
Prediction Capability: Yes - customizable up to 50 ms
Operating Distance: 0.25 m to 1.83 m
Accuracy @ 1m: 1.0 mm RMS; AVG filter on
Static Resolution @1m: 0.1 mm
Angle Range: Sensor directly in front of scanner: ± 85° Azimuth, Elevation, ± 180° Roll
Scanner Dimensions: (L x W x H) 32 cm x 9 cm x 4 cm
Scanner Weight: 1.53 kg
Sensor Dimensions (L x W x H): 10 cm x 9 cm x 1 cm
Sensor Weight: 40 g
The laserBIRD 2 includes the following:
1 Scanner Assembly with Integrated Processing Unit
1 RS-232 Interface
1 Standard Sensor
1 Sensor with 10 ft (3 m) Cable
1 Interface Software Module
1 Installation & Operation Guide
1 Year Warranty

Updating...