SVI MU 32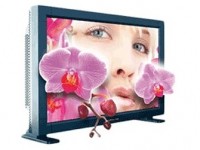 Astounding 3D images from a medium sized 32" display ideal for space efficiency! The SVI MU 32 3D display features stunning resolution, optimal brightness, and a sharp, crisp 3D effect.
This medium sized display uses space efficiently, and conveys your message to the viewer in an unexpected, eye-popping way.
Perfect for in-store retail promotion with limited space, in-office presentation, in-class training or in-booth exhibition display solution.
Specifications:
Display size: 32" (81 cm)
Resolution (dpi): 1360x768 (48 DPI)
Aspect Ratio: 16:9 (1.77)
Contrast: 600:1
Brightness: 00 cd/m²
Viewing Distance: 3-5m
Connector: DVI
Unit Size: 789 x 511 x 200 mm
Unit Weight: ~ 20 kg
Package Size: 940 x 660 x 310 mm

Updating...