VR Pilot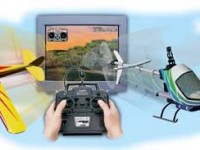 VR Pilot simulates radio-control flying in eye-popping 3D! You hold a controller which has features and functions that are just like a professional-quality R/C transmitter. It's connected by an included cable to your PC's game port. Using the controller, you become the pilot of five strikingly rendered model aircraft that "fly" out of your computer screen!
Your first simulated R/C flight is only moments away. The single VR Pilot CD-ROM contains all of the simulator software, it installs quickly and easily onto any version of Windows®. Then you simply select a plane, skill level, put on the included 3D Glasses, click on the "Fly Now" button and take off!
You can view the 3D action from your choice of four perspectives -- from the cockpit of the plane you control; following behind in a "chase plane"; from an overhead, "satellite's eye" view or from the ground like a real R/C Pilot. You can select any of three skill levels.
Three Challenging Levels: from mild to expert!
NOVICE: Lets you master the basics of R/C flight at a mild pace.
STANDARD: Boosts the simulation's speed and the model's capabilities.
ADVANCED: Unlimited performance -- put your fast reflexes to work!
As you progress through these levels, you'll learn new flying skills and face many challenges. No two flights will ever be exactly the same.
Real Physics - They fly just like the real thing!
Experienced R/C hobbyists agree that VR Pilot delivers an amazingly accurate recreation of model flight. The simulator's amazing Real Physics technology enables your planes to react just like real R/C models, both to your control inputs and to the effects of simulated flying conditions.
The flying fields you'll see on screen are also remarkably lifelike. They're created from actual photographs using a unique process called Photo Field technology. The scenery is dazzling and 3-dimensional. Virtual Revolution sound adds even more authenticity, reproducing the roar of your plane's engine - recorded from actual R/C model engines -- in doppler-correct stereo. With stereo speakers or headphones, you'll actually hear the plane pass from side to side when it moves across your computer screen!
You might enjoy VR Pilot so much that you'll want to take up radio-control modeling for real. If so, continue using VR Pilot at home to practice... it's a great tool for keeping your thumbs limber and your reactions razor-sharp!
Includes CD-ROM, Futuba controller, 3D Glasses and PC Interface.

Updating...